"Bipolar Disorder Is A Mental Illness Linked To Chronic Inflammation!"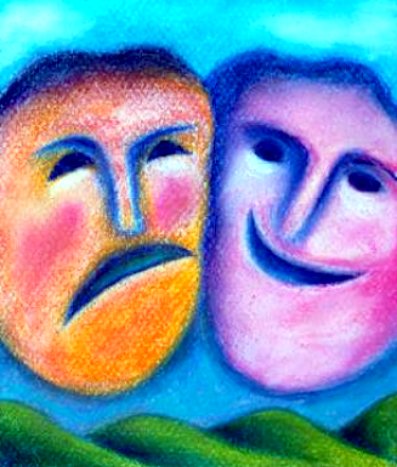 Bipolar disorder also known as manic depression, is a mental illness that causes people to change from feeling overly happy and joyful to feeling very sad.


Because of the highs and the lows or two poles of mood, this mental illness is referred to as manic depression.
Sometimes, a mood episode includes symptoms of both mania and depression. This is called a mixed state.
People with manic depression may be explosive and irritable during a mood episode.
Between episodes of mood swings, a person can experience normal moods.
Bipolar depression often develops in a persons late teens or early adult years. At least half of all cases start before age 25.
Share Your Experience With Bipolar Disorder
Bipolar Symptoms Include:
A long period of feeling "high," or an overly happy or outgoing mood
Extremely irritable mood, agitation, feeling "jumpy" or "wired."
Talking very fast, jumping from one idea to another, having racing thoughts
Being easily distracted
Being restless

Sleeping very little
Having an unrealistic belief in one's abilities
Behaving impulsively and taking part in a lot of pleasurable high-risk behaviors, such as spending sprees, impulsive sex, and impulsive business investments.
Signs of the Manic Depression Phase
A long period of feeling worried or empty
Loss of interest in activities once enjoyed, including sex
Feeling tired or slowed down
Having problems concentrating, remembering, and making decisions
Being restless or irritable
Changing eating, sleeping, or other habits
Thinking of death or suicide, or attempting suicide
If you are experiencing symptoms like this, it does not necessarily mean you have bipolar disorder, or any other mental illness.
There are many medical conditions which at first glance could look like bipolar symptoms, that's why a medical exam, including a test of thyroid function, is important.
Some people with manic depression experience hypomania.
A person having a hypomanic episode may feel very good, be highly productive, and function well. This person may not feel that anything is wrong even as family and friends recognize the mood swings as possible bipolar symptoms.
An estimated 60 percent of all people with bipolar disorder may also have behavioral problems.
They may abuse alcohol or substances, have relationship problems, or perform poorly in school or at work.




What Causes Bipolar Disorder?
Mental illness such as bipolar disorder, manic depression, autism, anxiety and schizophrenia, have all been linked to Chronic Inflammation.
There is increasing evidence that many childhood onset mental illness, and behavioral disorders are actually systemic disorders.
They are physical illnesses affecting the brain. This systemic effect is well documented in autism.
Another, even more revealing study has come out about chronic inflammation and neuro biological brain disorders.
This one, from the Netherlands, shows that chronic inflammation of both body and brain precedes the psychiatric symptoms of manic depression.
The lead clinical immunologist of the study, Hemmo Drexhage, says of bipolar, "It's not just a disease of the brain, it affects the entire system."
Interestingly, this is exactly what the medical community has been saying about autism.
This may help explain why so many nutritional supplements and anti inflammation diets help many of our children.
It may explain why Omega 3 fish oil , is proving to be helpful in preventing or delaying the escalation of some mental illness from becoming so severe they get called "schizophrenia."
Comparison of 2 Harvard studies shows Omega 3 fish oil is safe and effective in reducing symptoms of mania and Depression in children with bipolar disorder without the adverse side effects of pharmaceutical drugs.
People with manic depression have a three times greater than average chance of developing autoimmune thyroid disease, an inflammatory disorder.
Other data suggest that the risk for diabetes , and some other inflammatory diseases may also be elevated in people with mental illness.
Also, because two-thirds of bipolar patients have a family history of emotional disorders, researchers are looking for a genetic link.
According to new research by Swedish scientists, older fathers are more likely to have children with bipolar disorder.
The researchers suggest the risk goes up when men are older than 29 before they start their family, and is highest if they are over 55 as their sperm is more likely to carry genetic errors.
Previous research has already linked increased paternal age with schizophrenia and autism, but not with bipolar disorder.
According to a study that was funded by the Swedish Council for Working Life and Social Research and the Swedish Research Council:
Their results provide convincing proof that schizophrenia and bipolar disorder are very much hereditary diseases.
And that they share a common genetic cause, and that they may be two versions of the same mental illness.
What Can You Do To Prevent Bipolar Symptoms
First of all try to get plenty of sleep. At least 8 hours, to rest your body and your brain.
Stay away from junk food
No white flour, white rice, white pasta, or sugar
No vegetable oil, canola oil, or margarine
Use butter, lard, Pure Virgin Coconut Oil or olive oil
Try to find a source of grass fed beef which contains omega 3 fatty acids

Grain fed beef is high in omega 6s which cause inflammation.

Omega 6 fatty acids are also called essential fatty acids because our bodies need them. However, they are too abundant in most of our diets and cause chronic inflammation and disease.

Eat more cold water fatty fish
Take a quality pharmaceutical grade Omega 3 Fish Oil supplement with EPA and DHA

Be careful what you buy. All fish oil is not created equal. And some could even be doing you more harm than good.

Always consult with a doctor before making dietary changes including using supplements.





Depression
Return From Bipolar Disorder Page to Inflammation Information Home Page





Share Your Knowledge About Bipolar Disorder

Find people that share the same challenges
Tell your story
Learn how others are coping
Help them with tips about your condition

No sign in, or username or password needed

Find Out What Other Visitors Have Said

Click below to see contributions from other visitors to this page...


Bipolar Disorder and Omega 3 Fish Oil
I have a friend who is bipolar. She goes from mania, extreme overly excited and seemingly happy, to not being able to function from the bipolar depression …