"Prevent Heart Attack With An Anti Inflammatory Diet"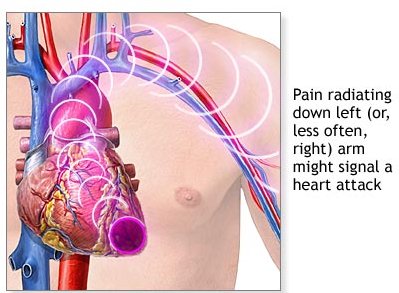 Could You Name Somebody Who Has Heart Disease?
I'm quite sure you could.
Did you know that most people who have blocked coronary arteries, are treated for it in the same way.
Cut Out Fat, And Take Your Statins To Lower Cholesterol. Is This Working For Most People?.

The incidence of this disease is not going down, it's actually getting worse. But why?
Read This Quote From "The Great Cholesterol Lie" , By Renowned Heart Surgeon, Dr.Dwight Lundell!
"I'd be in the midst of surgery, looking down at a patient, thinking, this man should not by lying on my table. He doesn't have the typical risk factors.
His cholesterol is in check, he doesn't drink or smoke, he is not obese and he doesn't have a beer belly . Yet, he had the same condition I saw in each and every surgical patient - inflammation."
Click The Arrow Below To See The Video With Dr Lundell Talking About Inflammation And Blocked Coronary Arteries





Click The Arrow Below To See Part Two Of The Dr Lundell Video Talking About Inflammation--And What You Can Do To Prevent It





Inflammation Is The Body's First Defense Against Infection, But When It Becomes Chronic, It Can Lead To:
Death

Hardening Arteries
And most other diseases
What most people do not realize is that the conventional medical wisdom that once viewed cardiovascular disease as a plumbing problem now sees it as an Chronic Inflammatory Disorder .
What we know as the bad cholesterol, LDL , provides the raw material for the deposits of plaque.
Doctors once believed that anyone who had a high level of LDL cholesterol had a greater risk of blocked coronary arteries.
The problem with that belief was that about half the people who had acute myocardial infarction did not have an elevated level of LDL cholesterol.
I know that to be true in the case of both my mother in-law and my father in-law. They both had low cholesterol. Great, no problem. Wrong! They both ended up having by-pass surgery. Inflammation Was Never Mentioned.
We now know that chronic inflammation helps trigger heart attack or stroke by making plaque less stable and therefore more likely to rupture and generate artery-blocking clots, and hardening arteries.
Do You Know How To Prevent Blocked Coronary Arteries?
It should be treated by lifestyle changes:
Exercising
Stopping smoking
Controlling high blood pressure
Reducing alcohol intake
don't get a beer belly .
Adding More Omega 3 Fish Oil in your diet
Eliminating Stress as much as possible


This Could Definitely Be A Stress Reliever

Jogging is the fresh air-in-your-face, fat burning, inexpensive aerobic exercise that gets results! Jogging can be enjoyed alone or with friends and family. You'll find jogging tips and techniques for all levels to keep you moving on the path to a better, healthier you. jogging101.com

Dr. Eric Topol, Department Chairman, Cleveland Clinic Heart Center states: The new information about inflammation will, "change everything we do in coronary artery disease."
He adds that in the past, people talked about their cholesterol levels. In the next decade everyone will need to know their c reactive protein level.
You check c reactive protein with a simple blood test at your next clinic visit.
Be sure to take a pharmaceutical grade Omega 3 Fish Oil Supplement to reduce your chronic inflammation.

A wealth of information on preventing coronary artery disease using antioxidants and nutrition is available at Antioxidants-for-Health-and-Longevity.com


For More Information From The National Institute Of Health


If you aren't sure what your cholesterol is: Order Your Cholesterol Full Panel Test Kit Here
Another serious warning about your heart: When you check your blood pressure or have it checked, pay close attention to your heart rate.
Especially if you are experiencing any weakness, are light headed, or dizzy.
This could mean your heart rate is too low and it could be fatal if not corrected.
My husband just experienced this very thing. He felt weak, tired, short of breath and light headed. When he checked his blood pressure it was fine but his heart rate was 40. This is not good.
He drove himself to an emergency room and after a lot of testing he had a pacemaker implanted. His heart rate will never go below 60 now.
He feels like a new person. He is able to go for a walk and not get winded. His legs don't hurt anymore and he has so much more energy. Its just amazing the difference.
So, just another thing to be aware of.
About Dr Lundell
Review of The Great Cholesterol Lie
Erectile Dysfunction Linked to Inflammation
Prevent Stroke With Chocolate and Fish!
P.A.D.

Return From Heart Page to Inflammation Information Home
Didn't Find What You Were Looking For?
Share Your Heart Disease Story
Do you have a great story about this? Share it!

Find people that share your challenges
Tell your story.
Learn what others are doing. Help them with tips about your condition.


Read What Other Visitors Have Said
Click below to see contributions from other visitors to this page...

Prevent A Heart Attack

I have had high cholesterol for a few years and my doctor is always trying to get me to take Statins which I won't do. I am so happy to see your information …