"Parkinsons Disease Is A Brain Disorder That Might Be Helped With Omega 3 Fish Oil"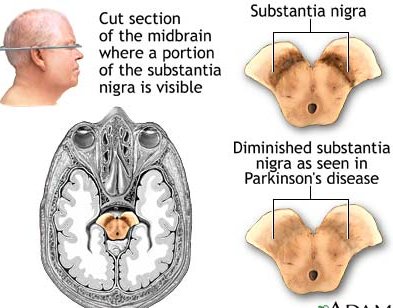 Parkinsons disease is one of a larger group of neurological conditions called motor system disorders.
An estimated 1.5 million Americans suffer from Parkinsons disease.The average age of onset of the disease is 55. About 10% of Parkinsons cases are in people younger than 40 years old.
It struck the actor Michael J. Fox at age 30. Mohammad Ali was diagnosed at age 43.
There is some evidence, however, that the risk declines significantly after age 75 and that the very elderly are at low risk.


It Attacks The Central Nervous System, Reducing The Brains Ability To Coordinate Movement.
The brain does its best to give instructions, but the message gets lost.
In the normal brain, some nerve cells produce the chemical dopamine, which transmits signals within the brain to produce smooth movement of muscles.
In Parkinsons patients, 80 percent or more of these dopamine producing cells are damaged, causing a dopamine deficiency.
The cells are dead or otherwise degenerated.
This causes the nerve cells to fire wildly, leaving patients unable to control their movements.
Symptoms Usually Show Up In One Or More Ways
Tremor, or trembling in hands, arms, legs, jaw, and face

Rigidity, or stiffness of limbs and trunk

Bradykinesia, or slowness of movement

Digestion problems- the ability to process food slows down, resulting in low energy and constipation

Depression - Parkinsons disease causes chemical changes in the brain that may result in depression. This can be an early warning sign, but as depression becomes more common in older adults, it is not often associated with the disease.

Low Blood Pressure which can result in light headedness and fainting

Temperature sensitivity- perception of temperature can be affected, and may result in hot flashes and excessive sweating
Leg discomfort- some patients report burning sensations and cramps in the legs.

Balance- There is a progressive loss of coordination and sense of balance, putting the individual at risk of falls.
Eventually, All Parkinsons Sufferers Take On Similar Characteristics.
There is the continual tremor

Stooped posture

The slow shuffle
And the blank stare
At The Present Time There Is No Cure.
However, it is manageable through medication and lifestyle, especially when identified in the early stages.
As Ali himself so famously proved, just because an opponent has you against the ropes, it doesn't mean the fight is over.

What Are Your Chances Of Getting Parkinsons Disease?
Age is one of the main risk factors. Although this brain disorder can affect adults in their 20s, it ordinarily starts in middle or late life. The risk continues to increase with age.

Sex- Males are more likely to get Parkinson's than females.

Family history--Having one or more close relatives with the disease increases the likelihood that you will get it, but to a minimal degree.

Agricultural work- Exposure to an environmental toxin such as a pesticide or herbicide puts you at greater risk.

Genetics-Studies showed that individuals with a more active gene had a 1.5 times greater risk.

Low levels of the B vitamin folate.

Brain Trauma- Recent research points to a link between damage to the head, neck, or upper cervical spine and Parkinsons.

Pesticides in well water -Rural residents who drink from private wells are up to twice as likely to develop the disease from certain pesticides, a UCLA study has recently found.
More And More Researchers Suspect Parkinsons Disease Results From Ongoing Chronic Inflammation Of The Brain.
Parkinsons disease may be linked to inflammation caused by allergies.
Researchers at the Mayo Clinic in Rochester, Minn., found that patients with allergic rhinitis were nearly three times more likely to develop this degenerative brain disorder than those with no allergies.
"People with allergic rhinitis mount an immune response with their allergies, so they may be more likely to mount an immune response in the brain as well, which would produce inflammation," Dr. Bower says.
"The inflammation produced may release certain chemicals in the brain and inadvertently kill brain cells, as we see in Parkinsons."
Dr. Bower and colleagues hope, however, that the clues in this study may give scientists a strong hint about chronic inflammations role in Parkinsons.
"This Is Exciting, Because We May Be Able To Develop Medications To Block The Inflammation," he says.
Do You Know What You Must Do To Prevent Parkinsons Disease?
There's good reason to believe anti inflammatory drugs can lower your risk of Parkinsons.
Frequent users of over the counter pain pills such as ibuprofen have a lower risk of Parkinsons disease, UCLA researchers find.
Those Who Took Non-Aspirin NSAIDs For Two Or More Years Had A 56% Lower Risk Of Parkinsons Disease.
Don't rush out and start taking NSAIDs just to avoid Parkinsons.
Prolonged use could cause serious complications for you, such as bleeding.
Studies show aspirin is just as effective for women, but not for men. They don't know why that is.
Follow An Inflammation Free Diet :
Chronic Inflammation could kill you, or at the least make you sick.
Avoid the best you can, any high carb processed foods:
Pasta

Rice

And sugar

Also Avoid:

Vegetable oil

Canola oil

Corn oil

And margarine
That's Correct. Margarine Is Not Good For You!
These All Cause Inflammation, And Eventually Sickness.
Get some exercise every day. If you haven't been exercising, start slow and increase the amount of time as you become more fit.
Walking is a great way to start.
Eat plenty of fresh fruits and vegetables. Are you worried about the carbs? Only worry about the breads and pastas, not necessarily the fruits and vegetables.
Your body needs fruits and vegetables. Do go sparingly with the corn and peas, because of the starch. (sugar)
Make it a habit to include pure manuka honey in your diet. It has anti bacterial and anti inflammatory properties.
Use:
Olive oil

Butter

Or lard

Eat meat

Fish

Or poultry everyday
Your body will thank you.
Nuts and seeds in moderation are acceptable.
Coffee and caffeine may lower the risk and progression of Parkinson's.
Your Body Also Needs Some Supplements Which You Don't Get Enough Of In Your Diet.
A Pharmaceutical Grade Fish Oil, Omega 3 fish oil with EPA and DHA. 1,000 mg one to two times per day. This helps maintain neurological health and reduce chronic inflammation.

Vitamin D (400 - 1,000 IU ) is often deficient in people with Parkinson's.

Coenzyme Q10. Several studies show that supplementing with Coenzyme Q10 (1,200 mg per day), can slow the progress of Parkinsons, especially in the early stages.

It's also good for your heart.

Antioxidants
vitamin C (1,000 mg three times a day)

Vitamin E (800 IU four times per day)
Studies show these help postpone the need for drug therapy in Parkinsons patients.
Taking vitamin E alone did not seem to have the same effect.




Movement Therapies May Help People With Parkinsons Improve Motor Skills And Balance, and Help Them Walk Better.
Music therapy: A recent study showed symptoms improved with music and dance therapy compared to physical therapy.

Alexander Technique: emphasizes posture and balance. May help improve mobility and gait.
Feldenkrais Method: aims to re educate the body about movements that are difficult. May improve gait.

Mind Body Therapies Such As:

Tai chi

Yoga
Can Improve Balance, Flexibility, And Range Of Motion In People With Or Without Parkinsons Disease.
They May Also Improve Emotional Well Being.
One study showed that acupuncture improved symptoms significantly in a small group of people with Parkinsons.
In particular, scalp acupuncture and acupuncture with electrical stimulation have shown positive results in some cases.
People with Parkinson's also experience sleep and rest benefits from acupuncture.
There Are Many Parkinsons Research Projects Going On Throughout The Country.
Muhammad Ali the boxing legend, now age 63, has been bravely battling Parkinson's disease for the last 20 years.
He Is The Founder Of: Muhammad Ali Parkinson Research Center
The Muhammad Ali Parkinson Center at Barrow Neurological Institute in Phoenix, Arizona is recognized as a center of excellence in the clinical treatment and advanced research of Parkinson's disease and other movement disorders.
Muhammad Ali Parkinson Research Center is committed to providing excellence in treatment, research, and education for patients and families affected by Parkinson's disease and other movement disorders regardless of ability to pay.


Michael J. Fox Proudly Sponsors Many Of The Research Programs For Parkinsons That Are Going On Right Now.
July 14, 2009: The Michael J. Fox Foundation for Parkinson's Research today announced approximately $2.1 million in total funding to 10 research teams working to validate therapeutic targets for Parkinson's disease.



Michael J Fox Parkinsons Center



Lupus
Multiple Sclerosis

Return From Parkinsons Disease Page to Inflammation Information Home


Share Your Parkinson's Disease Story
Find people that share the same challenges
Tell your story
Learn how others are coping
Help them with tips about your condition

No sign in, or username or password needed