" Crohns Disease Can Be Inherited"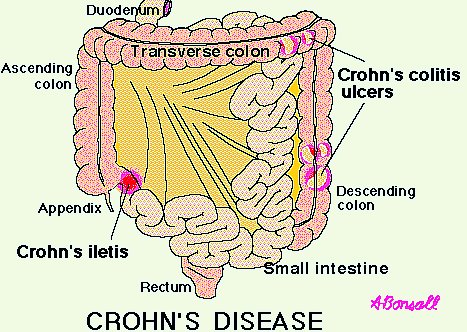 First Of All, What Is Crohns Disease?
It is a recurring, chronic, inflammatory disease of the intestinal tract which may cause bloody diarrhea. The intestinal tract has four major parts:
The Esophagus, or Food Tube
The Stomach, where food is churned and digested
The Long, Small Bowel, where nutrients, calories, and vitamins are absorbed
And The Colon And Rectum, where water is absorbed and stool is stored
There are five different types of Crohns disease:
Ileocolitis is the most common form.
It affects the lowest part of the small intestine (ileum) and the large intestine (colon).
Ileitis affects the ileum.
Gastroduodenal Crohn's disease
Causes inflammation in the stomach and first part of the small intestine, called the duodenum.
Jejunoileitis
Causes spotty patches of inflammation in the top half of the small intestine (jejunum).
Crohn's (granulomatous) colitis
Only affects the large intestine.
Because the symptoms of Crohn's disease are similar to other intestinal disorders, such as irritable bowel syndrome and ulcerative colitis, it can be difficult to diagnose.
Crohns disease affects men and women equally, and seems to run in some families.
The condition occurs in both sexes and among all age groups, although it most frequently begins in young people. Jewish people are at increased risk of developing Crohns, while African Americans are at decreased risk.


What Are the Symptoms Of Crohns, How Do I Know If I Have It?:
The symptoms depend on which part of the digestive tract is affected, but can include:
Diarrhea, often bloody diarrhea
Abdominal Cramps--belly pain is almost universal
Weight loss
Fatigue
Pain with a bowel movement
Bloody stools
And/or Rectal Bleeding
Ulcers
Lack of Appetite
Intestinal blockage is a common complication of the disease. Blockages are caused by swelling or a buildup of scar tissue in the intestinal walls.
Other Things People With Severe Crohns Disease May Experience:
Fever
Skin disorders
Inflammation of the liver or bile ducts
Delayed growth or sexual development, in children
While Crohns Disease Is For A Life Time, The Symptoms Of Abdominal Inflammation May Not Be Continuous.
Most people experience unpredictable episodes called "flares" in which symptoms appear or get worse.
People with this disease often suffer nutritional deficiencies because eating can make symptoms worse.
Deficiencies of:
Proteins
Calories
And Vitamins are well documented
These deficiencies may be caused by inadequate dietary intake, intestinal loss of protein, or poor absorption, also referred to as malabsorption.
There Is No Scientifically Proven Diet For Inflammatory Bowel Disease And Abdominal Inflammation...However.
Most people are well aware of the specific foods that trigger symptoms, particularly during disease flares. By avoiding your "trigger foods," you may find that your symptoms are more manageable. At the same time, you will give your inflamed intestines time to heal.
It might help to avoid foods that are known to cause inflammation
Some people have found that preparing foods in a different way makes them tolerable. A big help is to keep a food diary so you and your doctor can look at what you were eating before a flare. You will also be able to determine whether you are getting enough nutrients.
A good idea is to talk with your doctor or dietitian about vitamin and mineral supplementation. For example, many people with Crohn's disease have a vitamin D deficiency.
A study published in the American Journal of Preventive Medicine reported that higher doses of vitamin D (1,000 to 2,000 IU each day) may be beneficial, particularly in reducing the risk of colorectal cancer, which may be higher in individuals with IBD.
You might want to give pure manuka honey a try.A team of researchers from the University of Waikato in New Zealand studied whether honey could benefit those afflicted with the H. pylori bacterium known to cause gastric ulcers. Within three days, honey stopped the growth of bacterium colonies!
You Might Get Relief By Taking Omega 3 Fish Oil Supplements.
The anti-inflammatory effects of omega 3 fish oil, have been suggested to be beneficial in chronic inflammatory disease such as crohns.
We know that omega 3 fish oil is a natural anti-inflammatory.
If you reduce Chronic Inflammation in your body by taking fish oil you are simply healthier.
Many people swear by Pure Virgin Coconut Oil as a natural cure for inflammation.
What Causes Crohns Disease?
The body's immune system, which protects it against many different infections, is known to be a factor in developing this disease. There is evidence that the normal bacteria that grow in the lower gut may, in some manner, act to promote abdominal inflammation.
Scientists do not know if the abnormality in the functioning of the immune system in people with Crohns disease is a cause, or a result, of the disease.
Cigarette smoking is thought to increase the risk of developing this disease, and it may also play a role in periodic flare-ups of signs and symptoms.
This condition tends to cluster in families, however, and having an affected family member is a significant risk factor for developing the disease.
Treatment may include drugs, nutrition supplements, surgery, or a combination of these options.
The Goals Of Treatment are To:
Get rid of the chronic abdominal inflammation
Prevent complications
Correct nutritional deficiencies

Relieve symptoms like:

Belly pain
Diarrhea
And Rectal Bleeding
At this time, treatment can help control the disease by lowering the number of times a person experiences a recurrence, but There Is No Cure.
To Help Treat Your Symptoms, Your Doctor May Recommend:
Anti-diarrheal medication
Laxatives
Pain Relievers
Or Over The Counter Drugs
Because this disease and ulcerative colitis keep coming back, patients with these illnesses can become depressed. If you feel depression is a problem for you, you are not alone, talk with your family doctor.


Your Doctor May Order Any Of The Following To Make A Proper Diagnosis:
Blood tests to check for anemia
Fecal occult blood test
Colonoscopy
Flexible sigmoidoscopy
Barium enema
Small bowel imaging
Computerized tomography (CT Scan)
Capsule endoscopy
For people who find there is a connection between their stress level and a worsening of symptoms, using relaxation techniques, such as:
Slow Deep Breathing
Meditation
Tai Chi

And taking special care to eat well and get enough sleep, may help them feel better.
For more information: Visit The Crohns and Colitis Foundation Of America




Ulcerative Colitis
Diverticular Disease
Non Alcoholic Steato Hepatitis---NASH
Non Alcoholic Fatty Liver Disease---NAFLD


Return From Crohns Disease to Inflammation Information Home Page


Share Your Experience With Crohns Disease
Find people that share your challenges
Tell your story.
Learn what others are doing. Help people with tips you've discovered.
And add your comments to other stories.