Ulcerative Colitis May Be Prevented With Omega 3 Fish Oil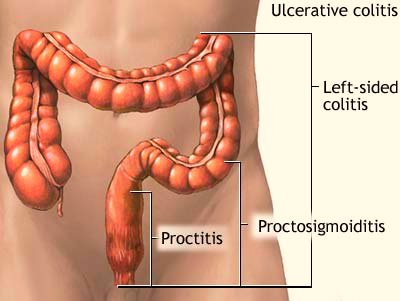 What Is Ulcerative Colitis?
It is an inflammatory bowel disease,limited to the colon (the large intestine). It is a lifelong illness that can have a tremendous emotional and social impact on people who are affected by it.

Ulcerative Colitis is a chronic inflammatory disease, such as Crohn's disease . It is known as IBD (inflammatory bowel disease).
IBD is different from IBS (irritable bowel syndrome). Unlike IBD, IBS does not cause inflammation, ulcers or other damage to the bowel.
It causes the colon to become inflamed. It is a colon infection, and in severe cases ulcers may form on the lining of the colon. The ulcers sometimes cause rectal bleeding and produce pus and mucus.
It usually affects young adults in their 20's and 30's but can affect children and older adults as well.
Most patients with this disease respond well to treatment and go about their lives with few interruptions.
What Are The Symptoms Of Ulcerative Colitis?
The first symptom is a progressive loosening of the stool. The patient may have crampy abdominal pain with a severe urge to have a bowel movement.
Diarrhea may begin slowly or suddenly.
Symptoms vary according to how much of the colon is affected and how inflamed it is.
The most common symptoms include:
Abdominal cramps
Rectal bleeding... Bloody diarrhea with mucus
Urgency
Fatigue
Weight loss in severe cases
Loss of appetite
Anemia
Fever
Dehydration
Tenesmus (wanting to empty the bowels constantly)
Most people report worse symptoms early in the morning.
People With Severe Inflammatory Bowel Disease Can Also Have:
Significant abdominal tenderness
NSAIDs such as ibuprofen and naproxen can cause similar signs and symptoms. Also people with colon infection who take NSAIDs are more likely to have worsening symptoms. However studies have not shown that NSAIDs cause colon infection.




The cause is not known for certain.
Researchers believe that the body's immune system reacts to a virus or bacteria, causing ongoing inflammation of the intestines.
Although this is considered to be a problem with the immune system, some doctors believe that the immune reaction may be the result, not the cause, of the disease.
Other potential causes are:
Heredity
Smoking
Environmental factors such as air pollution
Appendectomies have a negative association with ulcerative colitis
Because The Colon Infection May Be Caused By A Defect In The Immune Response System, Other Body Organs May Be Involved, For Example:
Recent studies show that symptoms are closely associated with an imbalance in the ratio of good bacteria to bad bacteria in the colon, and that this ratio is perhaps the most important element in your health.
The correct diagnosis of this disease may take some time. A health care practitioner will want to consider a variety of potential medical conditions.
Sigmoidoscopy or Colonoscopy with sampling of the lining of the bowel is the most accurate diagnostic test.
Especially in new cases, infections and other diseases that can mimic ulcerative colitis have to be considered and ruled out.
Long term ulcerative colitis does increase the risk for colon cancer.
Treatment for the disease involves medications and/or surgery. Since inflammatory bowel disease is currently an area of active and productive research, new treatments are anticipated which, it is hoped, will be of value.
An oral Omega 3 Fish Oil Supplement A soluble fiber and antioxidants has been found to be very effective for combating ulcerative colitis, according to a recent study.
People who took these supplements were able to control their disease either without corticosteroids or with a significantly reduced dose of the drugs.
Medications are also used to control this disease. If they do not work, surgery may be considered.
There is now an innovative procedure in which the colon is removed and the small bowel is used to create a rectum. This helps people avoid a stoma.
Studies show:
A diet high in linoleic acid may be implicated in the disease. According to the results of a study reported online July 23 in Gut magazine.
Linoleic acid occurs naturally in red meat, various cooking oils, and margarines.
It would be wise to substitute A Pure Virgin Coconut Oil for all your cooking oils. This is a most potent inflammation fighter. And it tastes good too.
People with the highest intake of the omega-3 fatty acid DHA, which is found in cold water fatty fish, was associated with a 77% decrease in the risk of developing the disease.
NIDDK, through the Division of Digestive Diseases and Nutrition, conducts and supports research into many kinds of digestive disorders.
Researchers are now studying how and why the immune system is activated, how it damages the colon, and the processes involved in healing. Through this increased understanding, new and more specific therapies can be developed.
Currently, there are numerous clinical trials being conducted that are investigating ulcerative colitis.
The National Digestive Diseases Information Clearinghouse (NDDIC) is a service of the National Institute of Diabetes and Digestive and Kidney Diseases (NIDDK). The NIDDK is part of the National Institutes of Health of the U.S. Department of Health and Human Services. Established in 1980, the Clearinghouse provides information about digestive diseases to people with digestive disorders and to their families, health care professionals, and the public.
The NDDIC answers inquiries, develops and distributes publications, and works closely with professional and patient organizations and Government agencies to coordinate resources about digestive diseases.
A New study shows: Ulcerative Colitis Treatment Reduces Need for Surgery by Almost Half.
ROCHESTER, Minn., Oct. 1 /PRNewswire-USNewswire/ -- A new study led by Mayo Clinic researchers has found that patients had a 41 percent reduction in colectomy after a year when treated with infliximab, according to a study published in the October 2009 issue of Gastroenterology.
Each year, Mayo Clinic physicians treat more than 2,000 people with ulcerative colitis.
For more information on Treatment at Mayo Clinic,

Mayo Clinic's Division of Gastroenterology and Hepatology has been ranked #1 in the U.S. News & World Report Honor Roll of Top Hospitals since the rankings began 20 years ago.
Crohns Disease
Diverticular Disease
NAFLD (Fatty Liver Disease)
NASH ( Non Alcoholic Steatohepatitis)


Return From Ulcerative Colitis to Inflammation Information Home


Share Your Experience With Ulcerative Colitis
Find people that share your challenges
Tell your story.
Learn what others are doing. Help people with tips you've discovered.

And add your comments to other stories.