Prevent Gout Symptoms With Deep Breathing Exercises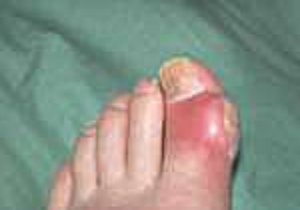 Gout Usually, But Not Always, Affects The Large Joint Of Your Big Toe, A Condition Called Podagra.
Scientists estimate that 6 million adults report having had a gout attack at some time in their lives.


It almost always occurs suddenly, often at night and without advance warning until the intense pain hits.
An inflammatory attack is a very painful condition that occurs when the bodily waste product uric acid is deposited as needle like crystals in the joints and or soft tissues.
It can occur in your:
Feet
Ankles
Knees
Hands
Wrists
And Fingers
In the joints, these uric acid crystals cause inflammatory arthritis, which leads to:
Swelling
Redness
Heat
Pain
And Stiffness in the joints
It occurs more often in men than it does in women, mainly because women tend to have lower uric acid levels than men do.
After menopause, however, women's uric acid levels approach those of men.
Men also are more likely to develop it earlier, usually between the ages of 40 and 50. And once you've had an attack your chances of another one are very high.
What Can You Do To Prevent Gout?
You are more likely to have an inflammatory attack if you are overweight.

Do not fast or lose weight rapidly, since that may temporarily raise uric acid levels.

Avoid low carbohydrate diets

When carbohydrate intake is insufficient, your body can't completely burn its own fat.

As a consequence, substances called ketones form and are released into the bloodstream, resulting in a condition called ketosis.

After a short time, ketosis can increase the level of uric acid in your blood.

Due to its powerful anti-inflammatory properties, pure Manuka honey is now being considered a viable treatment option for gouty arthritis and other muscle and joint pain.

Maintain a normal blood pressure. High blood pressure is linked to high uric acid levels.
High uric acid levels are also linked to other conditions such as heart disease.
Family History is also involved. If someone in your family has had an attack unfortunately you are more likely to have one also.
In our family, my mom had it, and my brother and my son have flare ups.
When my son went to the doctor for the pain the last time he had it, he was told to take Omega 3 Fish Oil. He tried it, and it did help him. He hasn't had another episode since starting on the fish oil.
On the other hand. I have a cousin who has flare ups also. He tried the fish oil and had no change.
So, if you are a sufferer, it's certainly worth trying fish oil, but, as always, consult your doctor first.
Research Is Suggesting That Certain Foods May Prevent A Flare Up.
In a study published in the New England Journal of Medicine, scientists found that:
There was an article in the Minneapolis paper about drinking lots of water for treatment of gout. The article said you can reduce your chance of a flare up by 40% if you drink lots of water.
Treatment includes:
Nonsteroidal anti inflammatory drugs.

NSAIDs may control inflammation and pain in some people. NSAIDs include over-the-counter options such as ibuprofen and naproxen as well as the more powerful prescription drugs.

However, it is well known that NSAIDS can be dangerous, killing more than 16,500 people per year.

Extreme complications, including gastric ulcers, bleeding, heart attack and even deaths, are associated with NSAID use.

An alternative treatment with fewer side effects that also reduces the inflammatory response and reduces pain are omega 3 fish oil supplements.

Researchers recommend supplementing with fish oil for natural treatment of gout.
The omega 3 oil from fish has been found to be nature's most potent anti-inflammatory agent for natural pain relief.
Make omega 3 supplements a regular part of your life and you will greatly reduce the chance of having an attack.
It is estimated that 85% or more of people in the Western world are deficient in omega 3 fatty acids and most get far too much of the omega 6 fatty acids.
Vegetarian diets, for example, tend to be very high in omega 6.
Arthritis patients who take fish oil can eliminate or sharply reduce their use of NSAIDS and other arthritis drugs.
Researchers are also studying some complementary and alternative treatments to cure gout.
Studies have found an association between coffee drinking — both regular and decaffeinated — and lower uric acid levels.
However, no study has proved how or why coffee may have an influence on uric acid in your body.
Cherries have been associated with lower levels of uric acid in studies.
Adding cherries and other dark-colored fruits, such to your diet may be a safe way to supplement your gout treatment, but talk with your doctor about any of these things first.
You could benefit by using some relaxation techniques, such as deep breathing exercises and meditation such as Spring Forest Qigong for a general state of well being.
You can learn what to do about the prevention and treatment of gout


From A Former Sufferer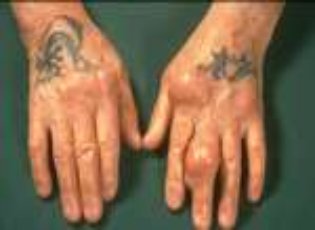 Click Here For More Gout Information-- From The National Institute of Health




You Don't Have To Age So Fast
Osteoporosis
Learn What To Do About Arthritis
You Don't Have To Live With Erectile Dysfunction
Eliminate Your Back Pain

Return From Gout Page to Inflammation Information Home


Have A Story About Gout?
Do you have a great story about this? Share it!
Read What Other Visitors Have Said
Click below to see contributions from other visitors to this page...

Treatment For Gout Not rated yet
Gout can be relieved by drinking more water. I just read in the paper today Gout and gout symptoms can be relieved by drinking more water. It says 5 …