"Acid Reflux Is Inflammation Of The Esophagus"
Acid Reflux Is Caused When A Large Hiatal Hernia Allows Food and Acid To Back Up Into Your Esophagus Causing Chest Pain. Most People Say They Have Heartburn.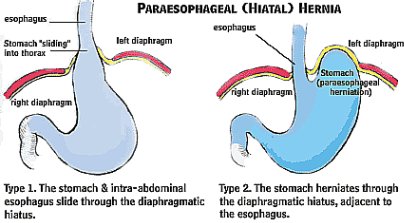 Heartburn is common, and often occurs without causing any symptoms because the body responds by quickly neutralizing and clearing the acidic contents from the esophagus.

One of the best things you can do for relief of acid reflux is to take the best quality omega 3 supplement you can find.



I Search And I Found The Purest Omega 3 On The Market

In some people, however, for reasons that are not understood well, the protective mechanisms of the body do not function properly.
In these people, Inflammation Of The Esophagus called esophagitis will occur and produce the classic symptoms of GERD.
Heartburn is the most common symptom.
If Your Doctor Talks About Esophagitis, It Is Any Of The Following:
Irritation
Or swelling of the esophagus
This inflammation often damages the esophagus and occasionally the lungs and vocal cords.
Scars from tissue damage can sometimes also make swallowing difficult.
Acid reflux, may cause a condition known as Barrett's esophagus, which is associated with an increased risk of esophageal cancer which is often fatal.
The Causes Are:
Hernias
Vomiting
Medications
And surgery
Esophagitis can also be caused by an infection that can develop in people with weakened immune systems.
The infection can be caused by:
Viruses
Herpes
Fungi
Or Yeast, especially Candida infections
Candida yeast infections can be helped with
Pure Virgin Coconut Oil
Most children under 12 years old with GERD, and some adults, have GERD without heartburn.
Instead, they may experience:
The Pharmaceutical companies lead us to believe these problems are caused by too much acid in the stomach.
However, heartburn and GERD are almost always caused by a lack of stomach acid, rather than an overproduction of acid.
Acid in the stomach is there for a good reason, to help you digest your food.
Reduction of acid in the stomach also diminishes your primary defense mechanism for food-borne infections and increases your risk of food poisoning.
The Proton Pump Inhibitors Like:
And The H2 Blocker Agents Like:
Tagament
Pepcid
And Zantac
Are Some Of The Worst Drugs You Can Take.
They do work quite well.
However, you could develop a tolerance and dependence on them, so you can't stop taking them.
You must wean yourself off of them gradually or the problem could end up being worse than before you started taking the medication.
Prescription Medication Can Also Raise Your Risk Of Pneumonia, And Result In An Increased Risk Of Bone Loss.
The risk of osteoporosis and bone fracture has been estimated to be over 40 percent higher in people who use these drugs long-term, which is what physicians recommend.
This helps decrease inflammation which could allow the gastro-esophageal sphincter to function normally. The fish oil may not help get rid of it completely, but it might give you some relief.
It also improves your immunity.
Some people have said omega 3 fish oil makes the heart burn symptoms worse.
Part of the problem is, there are several fish oils on the market which are very poor quality.
Make sure you are spending your money on a quality product that will help reduce your inflammation.
The most important thing you can do to avoid acid reflux is to follow an anti inflammatory diet .
Get A Free Analysis Of Your Acid Reflux From A Medical Doctor
July 25, 2008 — Chronic heartburn may alter the immune system and raise the risk of asthma, according to a new study that helps explain why so many people with asthma also suffer from gastroesophageal reflux disease (GERD).
Researchers say the link between asthma and GERD has been a mystery for years. Previous studies have shown that 50%-90% of people with asthma also suffer from gastric reflux, but until now the relationship between the two conditions was unclear.
The study shows that inhaling small amounts of stomach acid back up into the esophagus and lungs, a hallmark of GERD, slowly produces changes in the immune system that may lead to the development of asthma.
Inflammatory Foods Cause Disease
Your Acne Helped With Diet Changes
Get Rid Of Sinus Inflammation
Do You Have A Beer Belly? Get Rid Of It!
Lose Weight And Inflammation
Chronic Kidney Disease Caused By Inflammation

Return From Acid Reflux to Inflammation Information Home Page


Share Your Acid Reflux Story
Here's your chance to help and be helped.

Do you have any tips for living more comfortably with acid reflux? Maybe even a funny story.

There are many different remedies out there.

Share the good, the bad and the ugly.
Read What Other Visitors Have Said
Click below to see contributions from other visitors to this page...

Heart Burn is a pain in the /%$@ Not rated yet
I've had acid reflux forever. Overeating is the worst. And going to bed too soon after eating. If I do either of those I will wake up choking and coughing …