What You Need To Know About Breast Cancer, And The Symptoms Of Breast Cancer
Breast Cancer, Occurs In Both Men As Well As Women.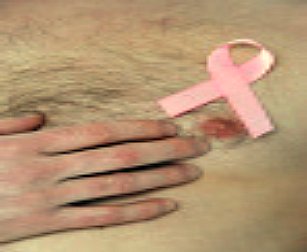 Women in the United States get this cancer more than any other type of cancer except skin cancer. The number of new cases has increased every year over the last 30 years.
It is second to lung cancer as a cause of cancer death in American women.




However, the good news is deaths have decreased a little bit every year for the past several years.
What Causes Breast Cancer?
While we do not yet know exactly what causes it, we do know that certain risk factors are linked to the disease. Source: American Cancer Society
What Are Your Risk Factors?
Source: American Cancer Society
It's not necessary to have a lump, to have cancer!
What Is Inflammatory Breast Cancer (IBC)?
This is an uncommon form of rapidly advancing cancer that usually accounts for approximately 1% to 3% of all breast cancer diagnoses.
This cancer causes the breast to appear swollen and inflamed. It will also often cause considerable breast pain.
This inflamed appearance is often caused when cancer cells block the lymphatic vessels in the skin of the breast, preventing the normal flow of lymph fluid and leading to reddened, swollen and infected looking breast skin, that's why it's called inflammatory breast cancer.
It is now believed it is not caused by infection or inflammation as was once thought.
IBC, An Advanced And Accelerated Form Of Breast Cancer Is Usually Not Detected By Mammograms Or Ultrasounds.
It requires immediate aggressive treatment with chemotherapy prior to surgery and is treated differently than more common types.
This cancer usually grows in nests or sheets, rather than as a confined, solid tumor and therefore can be diffuse throughout the breast with no palpable mass.
The cancer cells clog the lymphatic system just below the skin.
Lymph node involvement is assumed. Increased breast density compared to prior mammograms should be considered suspicious.
Women who have IBC may remain undiagnosed for long periods, even while seeing their doctor to learn the cause of her symptoms.
The Symptoms of IBC Are Similar To Mastitis, a breast infection, or breast cysts. Symptoms include breast pain, and some doctors, not recognizing IBC, will prescribe antibiotics.
If a response to antibiotics is not apparent after a week, a biopsy should be performed or a referral to a breast specialist is warranted.
A large portion of young women with inflammatory breast cancer have their first symptoms during pregnancy or lactation.
The misconception that these young women are at lower risk for cancer, and the fact that IBC is the most aggressive form of breast cancer may result in metastases when the diagnosis is finally made.
One Or More Of The Following Are Typical Symptoms Of IBC:
Swelling, usually sudden, sometimes a cup size in a few days

Itching

Pink, red, or dark colored area (called erythema) sometimes with texture similar to the skin of an orange (called peau d'orange)

Ridges and thickened areas of the skin

Inverted Nipple

Nipple discharge, may or may not be bloody

Breast is warm to the touch

Breast pain (from a constant ache to stabbing pains)

Change in color and texture of the areola
Here are a couple of tips for caregivers and survivors of cancer:
Just be there. It is hard on you to be around a sick person; but, your care and concern really does help make the sick person feel better.
If the sick person can be in a support group where there are long term survivors, it will help a great deal!
Make Some Dietary Changes.
Follow An Inflammation Free Diet, high in omega 3 fatty acids.

Omega 3 fatty acids are found mostly in fatty fish such as salmon, trout, and sardines.

Take a pharmaceutical grade Omega 3 Fish Oil Supplement. It's impossible to get enough from diet alone.
Try to avoid junk foods and processed foods such as chips, crackers, and cookies.

Stay away from white bread, pasta, rice and sugar as much as possible.
Do not use Vegetable oil, Canola oil, or Margarine.
All Of The Above Cause Chronic Inflammation.
Use olive oil, Pure Virgin Coconut Oil, butter
Eat lots of fresh fruits and vegetables.
Use pure manuka honey which is proven to be an anti inflammatory.
Try to find a source of grass fed beef
which is high in omega 3s.

Breast Cancer Can Strike At Any Age. Be Informed, So If It Does Happen, You Can Be A Survivor Like I Am.










What Are Researchers Learning?

Researchers speculate that omega 3 fatty acids in combination with other nutrients, vitamin C, vitamin E, beta-carotene, selenium, and Coenzyme Q10) may prove to be of particular value for preventing and treating breast cancer, and also breast cysts.

Researchers at Marshall University School of Medicine in Huntington, West Virginia, found that lab mice bred to develop breast cancer had a significantly lower risk of the disease if fed the human equivalent of a handful of walnuts a day.

"It is clear that walnuts contribute to a healthy diet that can reduce breast cancer."

Studies show that omega 3 fish oil can provide a range of health benefits, from preventing heart disease to lowering male breast cancer risks.

Chronic Inflammation Is Believed To Contribute To The Development And Spread Of Breast Cancer, And Cancer Survivors With Chronic Inflammation May Be At A Higher Risk Of Recurrence.

A study led by researchers at Fred Hutchinson Cancer Research Center has identified two proteins in the blood that could become important prognostic markers for long-term survival in breast cancer patients.

The proteins are associated with chronic inflammation, which is known to contribute to cancer development and progression.

Cornelia Ulrich, Ph.D., and colleagues measured the levels of C-reactive protein (CRP) and serum amyloid A (SAA) in 734 cancer patients at 31 months after diagnosis.

They found that elevated levels of CRP and SAA are associated with reduced overall survival, regardless of patient age, tumor stage, race and body mass index.

These associations are strong and they suggest that, in the long-term, elevated levels of inflammatory markers predict a woman's chances of surviving after breast cancer," said Ulrich, a member in the Hutchinson Center's Cancer Prevention Program.

"It also appears that there may be a threshold effect in that only women in the highest third of inflammation markers had increased mortality."

Likewise, clinical and experimental data suggest that chronic inflammation promotes mammary tumor development.

Breast cancer patients have elevated concentrations of CRP before surgery, more so in women with advanced disease, which suggests that CRP may be related to tumor burden or progression.

A high CRP level is also a marker for heart disease and other diseases caused by chronic inflammation.

Cancer survivors with chronic inflammation may have an elevated risk of recurrence as a result of the effects of inflammatory processes on cell growth ,or the presence of cancer cells that induce inflammation, according to the study.

Source: Fred Hutchinson Cancer Research Center

Medical College of Wisconsin ties breast cancer to inflammation.

"We know that inflammation can be triggered in response to a number of factors including environmental, hormonal, genetic or infections," Khanna said.

"However, research shows that when the condition becomes chronic, it can lead to a great many diseases, including cancers."

Other studies have shown that vitamin D stops cancer cells from dividing and promotes cancer cell death.

Sufficient amounts of vitamin D, and exposure to sunlight has been shown to reduce the risk of developing breast cancer.

The body produces its own vitamin D in the skin when it is exposed to sunlight. The vitamin is also found in certain foods, including eggs and fatty fish.

To reduce your cancer risk. Have your CRP checked, your vitamin D levels checked and follow an anti inflammation diet.







Information On Breast Cancer From National Institute of Health


You Can Reduce Your Cancer Risk
Prostate Cancer
Hodgkin Lymphoma
Non Hodgkin Lymphoma

Return to Inflammation Information Home Page




Share :Your Breast Cancer Story

Do You Have Tips On Surviving Breast Cancer That Could Help Somebody?

You don't have to register and, no Username or Password needed.

Just Tell Your Story, Offer Tips, Ask Questions, And Offer Comments To Help Others.

It's Your Support Group!



Breast Cancer Survivors Love To Help

Read What Others Had To Say

Severe nausea while riding
I am a 16 year survivor. Thank you God. I had a left mastectomy and didn't have reconstruction until 3 years after surgery. I thought I was going to …

Breast Cancer Is So Scarry! Not rated yet
When my husband felt a lump and we found out it was cancer, it was the most alone feeling I ever had in my life. I had my husband and family, but …