Eat To Stop Inflammation The Fun And Easy Way With Vita Mix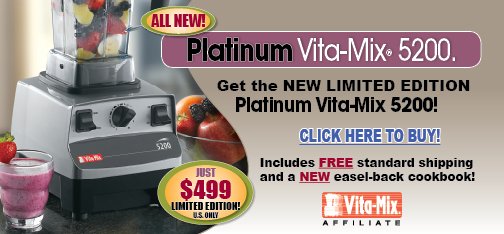 It is possible to eat to stop inflammation.
It's no news flash that one of the best ways to add years to your life, stay healthy, and stop inflammation and diseases is to eat more fruits and vegetables.
Actually now they say 7 to 9 servings daily. That's not always easy to do. Most of you are in a hurry everyday and just don't take the time for healthy eating. That was me for most of my life. Until 2003 to be exact.
We were at the Minnesota State Fair on a hot fall day, and we came across a Vita Mix demonstration. We were hot and tired from walking and they had chairs to sit and watch the demonstration. Plus they were giving out free samples.
We couldn't go wrong. So we sat, and watched, and sampled, and when the demonstration was over, we didn't get up and leave. We stayed for the next demonstration too.
Before that one was completely over we were in line to purchase the Vita Mix. It was time to, eat to stop inflammation.
I knew it was time to start healthy eating and this would definitely make it easier.
The Vita mix is not just an ordinary blender. If you have to call it a blender it's a blender on steroids.
That was several years ago and we have had a smoothie in the morning at least 5 days a week ever since. I also use it for grating potatoes for hash browns, making cabbage salad, it also makes really good home made ice cream, and hot soup right in the container. My favorite is tortilla soup. It makes plenty, it's quick and it tastes good.
Another of my favorites is peanut butter. The Vita Mix makes the best homemade peanut butter and almond butter you could buy anywhere.
It comes with a good sized recipe book to get you started. It's alot of fun, easy, quick and a healthy way to start to eat to stop inflammation.

Below are many research findings that prove that healthy eating is easier when you own a Vita Mix.
If you want to be honest you are probably dealing with inflammation in your body right now, and this is a great way to start on a healthy eating, inflammation free diet plan.
Breakthrough Research From The University of Toronto Shows That Vitamix Processing May Significantly Enhance Nutrient Intake From Whole Foods.
Because the Vitamix 5200 can blend the entire fruits, skin, meat and seeds, one can benefit from the increased antioxidant activity found in the seeds of fruit (2.14Proof that you can eat to stop inflammation.
Research Facts
The results of a 2008 study at the University of Toronto clearly indicate that the Vitamix 5200 has the ability to disrupt plant cell wall structure and significantly reduce food particle size which may enhance the bioavailability of essential nutrients in fruits and vegetables.
A diet high in vegetables and high-fiber grains is likely to reduce the risk of colon cancer - "Risk Factors for Fatal Colon Cancer in a Large Prospective Study" in the Journal of the National Cancer Institute v. 84 1992 p.1491
Broccoli and other cruciferous vegetables may protect against bladder cancer in men – "Super Foods for Men and Women," in Reader's Digest: RDLIVING.com
With A Vitamix You Can Add Vegetables To Smoothies, And Even Ice Cream And Not Know Your Eating Them...That's Healthy Eating!
Whole foods can prevent cancer - "Dietary influences on endocrine–inflammatory interactions in prostate cancer development" in the Archives of Biochemistry and Biophysics v.428 2004
A high fiber diet, compared to a low fiber diet, in diabetic patients improves glycemic control and reduces the number of hypoglycemic events – "Long-term Dietary Treatment With Increased Amounts of Fiber-Rich Low–Glycemic Index Natural Foods Improves Blood Glucose Control and Reduces the Number of Hypoglycemic Events in Type 1 Diabetic Patients," in Diabetes Care v.23 2000
Evidence demonstrates that a diet rich in plant food lowers the risk of developing heart disease – "Diet and prevention of coronary heart prevention: the potential role of phytochemicals," in Cardiovascular Research v.47 2000
Do you need more convincing that you can eat to stop inflammation and add years to your life?
Participants in a study who previously had high blood pressure were fed a diet rich in fruits and vegetables and after 8 weeks, 45% of the group had a normal blood pressure – "The effect of dietary patterns on blood pressure control in hypertensive patients," in the American Journal of Hypertension v.13 2000
Lutein, found in spinach, can also benefit eye health by reducing the risk of macular degeneration – "Improved Nutrition May
Reduce The Risk of Macular Degeneration ," at American Macular Degeneration Foundation website
Folic acid can aid memory, it is essential for brain function and a deficiency can lead to depression and cognitive impairment.
The spice curcumin has been shown to counteract alzheimer's disease and brain trauma in animal models. It has been shown that junk food can actually damage the brain.
Omega 3 fatty acids help to improve learning and memory and fight against depression, mood disorders, schizophrenia and dementia. Children with increased omega-3 fatty acids perform better in school – "Food as Brain Medicine," on UCLA: Today Online July 9, 2008
Rheumatoid arthritis patients who eat a gluten-free vegan diet have had their rheumatoid arthritis improve and the diet could in turn better protected against heart attacks and stroke - "Gluten-free Vegan Diet May Protect Rheumatoid Arthritis Patients from Heart Attack, Stroke, Study
These are just some of the studies that have been done that prove you can eat to stop inflammation and add years to your life with a Vita Mix in your home.
Anti Inflammatory Foods
Eat Right And Lose Weight
Pharmaceutical Grade Omega 3 Fish Oil
Pure Virgin Coconut Oil Will Keep Away Inflammation
Pure Manuka Honey To Reduce Inflammation

Return From Eat to Stop Inflammation to Inflammation Home Page


Share Your Favorite Vitamix Recipies
Do You Have A Favorite Recipe Or Use For Your Vitamix?
Read What Other Visitors Have Said About Their Vitamix
Click below to see contributions from other visitors to this page...

Cranberry Relish Recipe

Great for Thanksgiving! 1 orange, cut in half, peel only part of it 1/4 lemon, remove only part of the rind 1 cup fresh cranberries 1 small apple, …
Vita Mix for grinding meat Not rated yet
I just used my Vita Mix for grinding meat for the first time and it worked like a charm. I never have liked ground beef, it smells bad and tastes worse. …
Vita Mix For Grinding Meat Not rated yet
I used my Vita Mix for grinding meat for the first time yesterday. Wow! I don't think I'll ever buy ground beef in the store again. To me it's just …